I am needing this winter frosty thing to get it over and done with in the next few days. While it is pretty to see and fun to photograph our move at the end of next week is going to be more challenging with it. So I am giving it until the end of the weekend to smarten up!
Like it is going to listen to me!!!
Oh, the joy of being cold!!
Pretty to behold,
Oh so cold!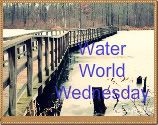 Frozen Water that is!
Everything is super frosty. The roads are skating rinks, the puddles are frozen, the leaves are covered in frost. Its cold cold cold!
The Weatherman threatens snow and it does try but mostly its icy fog and tiny frozen rain pellets.
It kind of looks like a dusting of sugar granules stuck to this leaf!