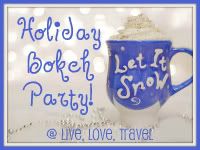 Decorating the tree became more fun when I discovered Bokeh way back when. Now instead of decorating, I just pile up things, like these strings of beads and marbles in front of the tree and go for Bokeh.
The beaded garlands eventually made it onto my tree after I had had my fun!
I want to try the stars bokeh of some of the photos I have seen. That looks very cool.
I wish everyone a Very Merry Christmas and a Happy and Prosperous New Year!!